December 12th Concert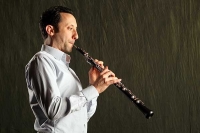 The Decmeber 12, 2018 City Music Cleveland Chamber Orchestra concert will be held at St. Jerome Church, 15000 Lake Shore Blvd at 7:30pm.
The concert will begin with The Magic Flute Overture by Wolfgang Amadeus Mozart. Richard Strauss' Oboe Concerto in D Major will feature Frank Rosenwein, principal oboe of the Cleveland Orchestra. Mozaart's Symphony No. 39 will complete the program. Stefan Wilich will conduct.
In their 15th season City Music Cleveland concerts are free and family friendly, though donations are always welcome. Doors open at 7pm.
Adele Markert
Parish Secretary/business manager at St. Jerome Church
Read More on St. Jeromes
Volume 10, Issue 11, Posted 12:06 PM, 11.04.2018