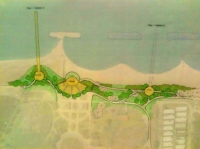 This rendering was on display at the meeting to show what the newly constructed pier and ampitheater might look like.
View Image Gallery
On Thursday, March 6th at the Collinwood Recreation Center, community residents had an opportunity to attend a public open house where Cleveland Metroparks presented updates about management, safety, programming and infrastructure improvements of the Lakefront Parks. The open house was one of two events coordinated by Cleveland Metroparks in partnership with Land Studio to provide residents on the near west side of Cleveland with updates about the coming year at Edgewater Park and residents in the Collinwood and Glenville neighborhoods with updates about the coming year at Euclid Beach, Villa Angela Beach, Wildwood Park and Gordon Park/East 55th St. Marina.
Cleveland Metroparks staff and administration, including Metroparks CEO Brian Zimmerman and COO Joseph Rozak were present at the meetings and available for questions and suggestions from community members.
The Open House Tables included tables outlining: An Overview of Park Operations, Programming, Events & Communications, Park Infrastructure, Safety & Security, Natural Resources, and Future Planning & Community Engagement.
Continued.
Read Full Story
Volume 6, Issue 3, Posted 3:14 PM, 04.07.2014