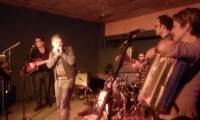 Manhattan Beach, an all-star collection of Shore Acres residents led by husband and wife team Scott Stettin and Meredith Pangrace.
View Image Gallery
The North Collinwood neighborhood has a rich tradition of musician residents and performance spots. We have the Frank Yankovic square at E. 152nd and Waterloo in honor of the legendary polka man who took his Cleveland Slovenian-style ethnic music up the pop charts in the '50s, and in '60s era the neighborhood drew music fans to the pavilion at Euclid Beach and the dances at the Green Darby on Lakeshore. At the Beachland, we are trying to keep that tradition alive by once a month showcasing some of the musicians who currently live in North Collinwood and inviting all of our neighbors to sample this experience for free. We are celebrating the success of this monthly gathering on Sunday night February 16 in the tavern with an extra special lineup of performers.
The tradition started about a year ago but picked up steam with the help of Dan Bode, a Shore Acres resident and lead singer/harmonica player for the band Moko Bovo. Dan has been regularly offering the jazzy blues of Moko Bovo. which also includes guitarist Al Moses, bass player Rick Kodramaz and drummer John Stebal, as a centerpiece for these nights.
Other regular performers have been: bassist Albert Dennis, a longtime resident of Overlook Park street, who has retired from his day job and now spends much of his time playing with blues singer/guitarist Mary Martin and others; Maura Rogers, who moved into a house rehabbed by Northeast Shores Development Corporation not far from the Beachland a couple years ago, but is also one of Cleveland's strongest up-and-coming singer/songwriters on the scene; and Mike Uva, another Shore Acres resident who created his own record label and performs his own beautifully penned Americana-style songs solo or with a band.
Read Full Story
Volume 6, Issue 1, Posted 7:39 PM, 02.07.2014