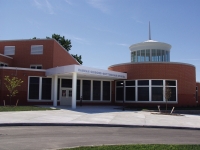 Hannah Gibbons STEM School is one of four schools the Cleveland Metropolitan School District has built in the Collinwood-Euclid cluster in recent years. The District also plans to build a new O.H. Perry School.
The Cleveland Metropolitan School District wants to continue modernizing its buildings, a campaign that began after the gym roof at the former East High School collapsed 14 years ago. Since then, the District has built and renovated 41 schools.
Work completed so far in what CMSD calls the Collinwood-Euclid cluster includes four new schools: Memorial PreK-8 was completed in 2005, followed by Hannah Gibbons STEM in 2006, East Clark in 2009 and Euclid Park in 2010.
If voters approve Issue 4 on Nov. 4, CMSD would continue to invest in the cluster, building a new O.H. Perry School.
Collinwood High School would remain open, with the District maintaining the building and working to increase the number of high-performing programs in the school.
Collinwood's most recent report card shows signs of academic improvement: The school's performance index (a composite of scores on achievement tests) increased 4 points and the graduation rate jumped 10 percentage points. The school has become one of 14 in Ohio to join the nationwide New Tech Network and use the network's project-based curriculum.
A revised master facilities plan also calls for maintaining Ginn Academy and Kenneth W. Clement Boys' Leadership Academy.
Approval of Issue 4 would not raise taxes, and the state would contribute $2 for every $1 the District spends on new construction.
Under The Cleveland Plan, a state-approved blueprint for education reform, CMSD seeks to provide quality school options in every neighborhood. And the presence of quality schools will help with economic development and the continued population growth of this cluster.
Across the city, CMSD would build 20 to 22 schools and refurbish 20 to 23 others if Issue 4 passes.
Issue 4 includes a $200 million bond issue for construction and a half-mill levy that would generate $2.5 million a year for maintaining buildings.
The owner of a $50,000 house would pay $44.10 pear year, just as the owner is already paying.
The Board of Education has prioritized the hiring of city residents, minorities, women and small businesses on construction projects.
To view the facilities plan online, go to www.clevelandmetroschools.org/masterplan
FAST FACTS:
Issue 4 will allow for construction of 20 to 22 new schools and the refurbishing of 20-23 schools, and it also will generate $2.5 million a year for building maintenance – all without raising taxes.
The state will provide more than $2 for every $1 the District spends on construction. That means Issue 4 will bring in an estimated $256.8 million from the state for Cleveland's schools without raising taxes.
Issue 4 authorizes $200 million in bonds for new construction and a half-mill tax for maintenance.
Issue 4 will cost the owner of a $50,000 home $44.10 per year.
CMSD has spent its construction dollars prudently while building and renovating 41 schools since 2001. The District saved taxpayers $42.2 million by refinancing and paying off debt early.
The Cleveland Board of Education has adopted the city's Community Benefits Agreement to guide future construction. That will prioritize employment of city residents, minorities, females and small businesses on CMSD projects.
The CMSD facilities plan funded by Issue 4 is aligned with the groundbreaking Cleveland Plan. The facilities plan gives CMSD the flexibility to start new school models and provide quality school options in every neighborhood.
The independent Bond Accountability Commission, which was created in 2001, would continue to monitor the use of bond funds.
Read Full Story
Volume 6, Issue 9, Posted 11:07 PM, 10.15.2014