The Feast of St. Jerome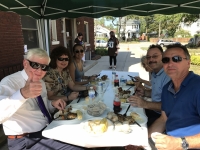 This year's Clam/Steak Bake will be held on Sunday, September 30th, the Feast of St. Jerome. This event will kick-off our Centennial Celebration.
The festivities will begin with 10am Mass celebrated by the Most Reverend Roger Gries. Coffee and donuts will be served following Mass. The Clam/Steak Bake will be served from 1-4pm.
Tickets for the Clam/Steak Bake are $30/plate and include your choice of entrees, either (a) a half chicken with one dozen mouthwatering clams or (b) a juicy steak. All dinners include Clam Chowder, potatoes, bread, cole slaw and corn on the cob. Tickets must be purchased in advance, there will be NO ticket sales the day of the event. Extra clams may be ordered for $10/dozen. Beer and soft drinks will beavailable for purchase.
As always there will be a fabulous Chinses Auction, 50/50 raffles throughout the day, and wonderful fellowship. We will have a videographer on site who will be able to record memories and favorite stories to be included in a Centennial Video that will be available later in 2019. What is your favorite memory of St. Jerome?
Adele Markert
Parish Secretary/business manager at St. Jerome Church
Read More on St. Jeromes
Volume 10, Issue 9, Posted 12:19 PM, 09.07.2018