Dr, Lee Rosen Elected to CHS Hall of Fame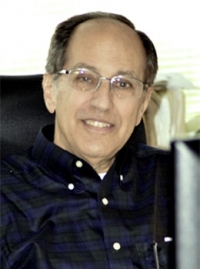 Dr. Lee Rosen, PHD, Class of 1965
Dr. Lee Rosen, PHD, represents all the key values that CHS instilled in us. Dr. Rosen graduated from Collinwood High School in 1965. Lee received his BS from Eastern Michigan University in Biology, his MS from Pennsylvania State University in Biology, and his PhD from Pennsylvania State University in Physiology with a postdoctoral in Toxicology at the NIH and another at Case Western Reserve University. He was a scholar who contributed to the betterment of this country through science. He was a loved and respected mentor to young scientists and staffers alike at the National Institute of Health. He was a loving husband, proud and loving Father and Grandfather. He was a Scuba diver and lived life with gusto. On October 22, 2015, Dr. Rosen passed away after a short but valiant battle with acute myeloid leukemia. He left a sister, Regina (Gina) Rosen who is also a CHS grad, and his dear wife Barbara and their children.
When you think of medical imaging research, a lot of names come to mind, but when you think of those having the most impact in terms of being an advocate for funding in radiology and imaging sciences, one name stands out—Dr. Lee Rosen. Dr. Rosen was a Scientific Review Officer at the National Institutes of Health (NIH) for 26 years and head of the Biomedical Imaging Technology (BMIT) study section for financial grant review. He is most certainly missed by those who served on his study sections and by those whose careers have been impacted by his constant efforts to make the grant review process as effective, efficient, and fair as possible. Lee not only went out of his way to recruit the best and the most appropriate reviewers for his study sections, but also took the added time and energy to talk with applicants about their submissions. His dedication to helping young scientists understand the review process was exemplified by the number of grant workshops he arranged and hosted at numerous scientific meetings over the years. It is impossible to count the number of medical imaging investigators that have benefited from Lee's advocacy, support, wisdom, and above all, friendship.
Dr. Rosen's career was an intriguing mix of scientific and business ventures, starting with managing 12 multidisciplinary assessments and inventory studies for highway and construction projects with SJ Rosen Associates! As a Senior Scientist with Buchart Horn, he provided support for environmental, area drainage and sewage, and corps of engineering dredging construction efforts; with The Aerospace Corporation, he provided technical support on projects including the health effects of 60 Hz electromagnetic fields; and with W/L Associates, he provided technical support on contracts to the Department of Energy (DOE) including establishing a liaison between US and Canadian agencies with similar research interests in electromagnetic health studies. From 1991 to 2003, he conducted independent research at the Food and Drug Administration laboratories on pineal cell physiology, and for 1 year, assisted Food and Drug Administration investigators with computed tomography technology.
From 1989 to 2015, he was a Scientific Review Officer at the center for Scientific Review at the NIH where he was responsible for the review of imaging technology grant applications, which is where most of us know him from either as reviewers or as applicants. According to Lee, his "major strength (was) in the knowledge of specialists in the various ields of study of imaging."
Lee also organized numerous outreach efforts for investigators ranging from presentations on review for other organizations to all-day seminars, including mock study sections at American Association of Physicists in Medicine (AAPM), Radiological Society of North America (RNSA), International Society for Optics and Photonics (SPIE) Medical Imaging, the Society of Interventional Radiology, and the Office of Extramural Research. He organized and conducted workshops as educational events for study sessions on topics such as imaging software, electromagnetics, magnetoencephalography, molecular imaging, and validation.
After one such event, Lee and others went on a boat ride and scuba dived or snorkeled—scuba diving was really Lee's passion but not just for himself. He always wanted everyone, whether at a review meeting or after hours, to feel comfortable, relaxed, and appreciated—that is what made working with him so pleasurable. He shared his interests with everyone not only about science and NIH but also about himself as well, which made working with him a pleasure and a privilege.
Lee touched the lives of so many people, and here are just a few comments that summarize how we all felt about him. He will be dearly missed by all who knew him; "Lee was the consummate gentleman and administrator—always trying to be fair and move the field of diagnostic imaging forward." Flemming Forsberg, PhD, Thomas Jefferson University.
"Lee Rosen was an extremely dedicated Scientific Review Officer who highly valued educating the reviewers as well as the grant writers. He was always willing to discuss the process one-on-one or as a speaker at various national meetings such as SPIE Medical Imaging, AAPM, RSNA, etc. His goal was to get the best science funded." Maryellen Giger, PhD, University of Chicago.
"Serving on study section helped me become a better scientist; serving on Lee's study section helped me become a better person. I find it a struggle to talk with people that I don't know, and left to my own devices, I would have wasted the opportunity that study section provides to meet new people. But, Lee loved to share a good meal and he made it easy for me participate in the dinners that he coordinated. Lee always requested pictures of my kids and enthusiastically shared pictures of his grandkids. After my father died, Lee always asked after my mother. Lee made a point to publicly congratulate study section members when they earned professional promotions. He publicly thanked members when they finished their terms. Through these small gestures, Lee was a model of how the professional side of our lives can be conducted with warmth and generosity." Mia Markey, PhD, University of Texas at Austin.
"Lee understood how critical the peer-review process was to the biomedical research enterprise. In my opinion, he went out of his way to ensure a fair review for all grant applications and, importantly to me as a reviewer, he made sure that his reviewers were happy and treated well. I never hesitated to participate on a Lee Rosen review panel. I knew it would be a beneficial experience because Lee would make it so. I have no higher respect for anyone at the NIH than I had for Lee Rosen. I will miss his humor and his humanness." Robert Nishikawa, PhD, University of Pittsburgh.
"I knew Lee for more than 20 years. To me, he embodied everything good about the NIH. He was generous with his time and quick to offer advice to new (and not so new) investigators. He clearly took his responsibility in overseeing the evaluation of research proposals very seriously, yet always with humor and a genuine concern for his reviewers (he once told he waited until my kids were older before inviting me to be a charter member of his study section). He will be sorely missed." Richard Leahy, PhD University of Southern California.
With special thanks and credit to:
Elizabeth A. Krupinski, PHD, "In Memoriam, Lee Rosen, PhD: SRO, Advocate, and Friend"
About the Hall of Fame
The Collinwood High School Hall of Fame was created in 1992 to honor those graduates that distinguished themselves and, therefore, Collinwood in their careers after graduation. There are 112 alumni currently enshrined in the Hall of Fame in categories ranging from sports to business. If you know of a classmate who should be considered for membership, kindly sponsor that individual by emailing me directly at cmgsales@roadrunner.com. I will gladly help you through the process.
Charles Gill, '62, CHSAA-HOF Chairman
Michael Cavotta
Currently the residing President of the Collinwood High School Alumni Association. Notable acedemic/athletic CHS 1962 grad, Engineering degree from OSU. Founder and owner of Performance Concepts a multi media engineering firm located in Mentor, OH. An innovator in intereactive healthcare products and services. Retired and living in Thompson, Ohio with his wife Wendy.
Read More on Community
Volume 10, Issue 8, Posted 9:13 AM, 08.04.2018