"Together We Can" Camp offers support for children who have lost loved ones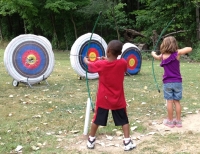 For the 15th consecutive year, Hospice of the Western Reserve will host "Together We Can," a children's bereavement day camp held at Red Oak Camp, 9057 Kirtland-Chardon Road in scenic Kirtland. This year's camp is scheduled for Tuesday, Wednesday and Thursday, Aug. 6-8, 9 a.m. to 3 p.m.
Each year, up to 60 campers between the ages of six and 14 who have experienced the death of a loved one spend the day in this beautiful natural setting interacting with other children who have also had someone special die.
"There's nothing better than seeing all these kids who have experienced so many different losses come together in a beautiful setting to share stories, learn new ways to handle their grief, and have fun with other kids who understand what they're going through," said Karen Hatfield, counseling team leader at the Elisabeth Severance Prentiss Bereavement Center.
Children have the opportunity to share their feelings and ask questions in a safe, supportive environment. A variety of activities to encourage memories, coping and expression of feelings, as well as fun recreational activities are led by trained professionals who are experienced in working with children and grief. Cost for the camp is $25 per camper; scholarships are available. Space is limited and registration is required by July 1.
Transportation is provided from three convenient drop-off points:
Hospice of the Western Reserve, Lakeshore Campus, 300 E. 185th Street, Cleveland
Hospice of the Western Reserve, Warrensville Hts. Office, 4670 Richmond Rd., Warrensville Hts.
Holiday Inn, 4181 W. 150th Street, Cleveland
For more information and to receive a registration packet, call Karen Hatfield at 216.486.6042.
Laurie Henrichsen
Laurie Henrichsen, Media & Public Relations, Hospice of the Western Reserve
Read More on Health News
Volume 5, Issue 5, Posted 12:30 PM, 06.07.2013