The Haunting on 12817 Locke Ave.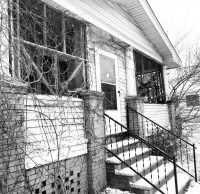 Welcome to a story about a the real life haunted house on Cleveland's east side !! On a long quiet street, where half of the houses are torn down, the street looks like a ghost town! There's a home that sits abandoned and haunted on Locke Ave, 12817 Locke Ave. is the address of the house where the residents of the street say this home is haunted. People have recalled hearing all kind of strange sounds banging, slamming, walking, stomping and moaning. I can vouch for those claims, because I witnessed it myself. All these unexplained sounds. I was there and heard them all. There was a tragic event that happened, a man was murdered in his house by a family member. The murder victim name was Paul Cotton, I had a opportunity to experience these strange but memorable activities. I had to clean and bag up Paul's belongings, while I was doing this I kept hearing a knock at the door.
I thought people in the neighborhood was knocking at the door because they wanted to find out what happened and asked questions about the murder. I'll go to the door nobody was there, I'll go back upstairs to continue cleaning out the house then I'll hear the knocking again, I'll go back down to the front door where once again nobody was at the door, then i would hear a loud bang like someone slam something heavy on the floor. BOOM! BOOM! I heard it again. Now I'm wondering what's going on myself, I'll come peek out in the hallway where I heard the loud boom but there was nothing laying on the floor. No sign of what would make that sound, the next day i would come i encountered, the sounds plus weird smells, and one time i experience the most paranormal activity i encounter I have ever experienced. I was in the bedroom bagging up some trash , I heard what sounded like footsteps coming in bedroom what would follow was dramatic change in temperature , the room got extremely cold , so cold where i was blowing fog out my mouth and shivering from the temperate dropping it was something I can't explain like standing in a big freezer, then feeling like somebody's walking around you, but I wasn't afraid. It was a experience only a few will ever encounter, a real life hauntings. I still go to the house till this day where i almost every time encounter the spirit of Paul Cotton. I advise anybody who hasn't encountered a restless spirit or paranormal encounter to check out the house at 12817 Locke Ave. don't be afraid if you hear strange sounds, loud banging, moaning. If you experience the temperature dropping and you catch that quick glance of a dark shadow out the corner of your eye darting across the room just remember it's just the spirit of Paul Cotton wondering who's walking around his house.
You can follow me.
Instagram @ iamthegreatdame
Youtube @ i am the great dame
Read More on Community
Volume 11, Issue 4, Posted 2:55 PM, 03.30.2019