See you at the annual "Big Clean" on Saturday, April 6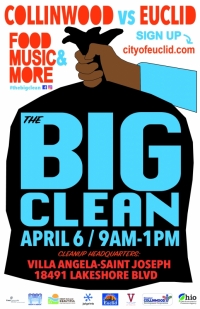 We are just weeks away from the third annual Collinwood v. Euclid "Big Clean" Great American Cleanup on Saturday, April 6th, 2019 from 9am to 1pm at Villa Angela – St. Joseph High School.
Let's try to sweep the "competition" this year – we came so close last year to beating the City of Euclid!
REGISTER NOW!
Registration for individuals and organizations - in both Euclid and Collinwood – is highly preferred and greatly appreciated in advance of the event. Please visit the City of Euclid's website before April at www.cityofeuclid.com and click the "Big Clean" icon to be routed to the registration page.
Want to support the "Big Clean" with a monetary or in-kind donation? Please visit the City of Euclid's website or contact Stephen Love at stephen.love20@gmail.com . Donations are due by March 25th in order to make our t-shirt printing deadline where we will recognize our valuable donors!
Allison Lukacsy-Love
Allison is a North Shore Collinwood resident, architect, artist, neighborhood cheerleader and frequent contributor to the Collinwood Observer. She curates "Phone Gallery", founded "Bus Stop Moves", "Give Box Cleveland" and upcycles street and beach trash into art.
Read More on Community
Volume 11, Issue 3, Posted 2:52 PM, 03.10.2019