Marie Kondo-ing your house? Donate to Give Box Cleveland!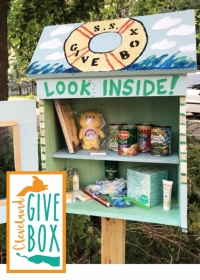 People have been de-cluttering their homes since January 1 when Netflix debuted the show 'Tidying Up with Marie Kondo'.
If you are one of these 'less is more' types, consider bringing some of your donations to Give Box Cleveland - conveniently in the neighborhood with one location along Lakeshore Blvd at an RTA stop just west of E.156th Street. More locations coming soon to South Collinwood this summer!
Give Box Cleveland is just like a Little Free Library in concept - take what you need, leave what you can - and accepts donations anonymously 24/7 inside the colorfully decorated wooden box built by YOU youth employees in summer 2018. When donating, please make sure your items are non-perishable.
Everything from scarves and small toys to boxes of pasta and tubes of toothpaste are welcome!
When cleaning out your home this spring, please consider helping a neighbor by placing an item or two in the Give Box.
Thank you!
Allison Lukacsy-Love
Allison is a North Shore Collinwood resident, architect, artist, neighborhood cheerleader and frequent contributor to the Collinwood Observer. She curates "Phone Gallery", founded "Bus Stop Moves", "Give Box Cleveland" and upcycles street and beach trash into art.
Read More on Community
Volume 11, Issue 3, Posted 2:52 PM, 03.10.2019