Master Mechanical Saves Christmas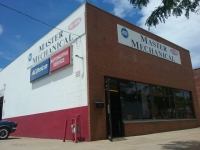 The average car has around 30,000 parts, and I only know what like 10 of them actually do. I have many skills but mechanics was never one of them, that's why I take my car to Rich, my car doctor, saying "she's not sounding too good, so let's see Rich for a checkup", and he never let's me down.
Rich Ziegler has been the owner of Master Mechanical on East 200th St. for as long as I can remember, and has taken care of every car I've had from 16yrs old to my now 37yrs old, including getting my old car ready to drive across the country to Seattle.
A few weeks ago (during the busiest time of the year for my family business) my car wouldn't start. Since I was on the westside I found a shop nearby with towing, and had it taken there. They charged the battery, and replaced the old cables connecting to it, thus getting it running again. The price wasn't too bad, but then they tried to talk me into spending $400+ more for a new alternator. I passed on the alternator, saying I would rather have my usual guy do it. A week later, I took it to Rich at Master and after looking, he tells me "it doesn't need an alternator, it's fine, and do you really need back wiper blades? Cause the new motor for those is almost $300". Luckily it just needed some fluids, and tightening up of the muffler that was rumbling.
I'm thankful to have a trusted friend that asks good questions like "Do you need to drive it on the freeway?", "Would you like the inexpensive get it running fix, and do the expensive stuff next month?", "When was the last time you _____?", and "Do you really need back wiper blades". The answer is no, no I did not want to spend an extra $300 on a motor for back wipers, or $400+ on an alternator I didn't need, especially right before Christmas.
Thanks and Happy New Year to everyone at Master Mechanical! Master Mechanical is located at 718 East 200th street, 216.481.9090. Tell Rich the Observer sent you!
Read More on Community
Volume 11, Issue 1, Posted 5:21 PM, 01.08.2019