James E. DeGeronimo, Sr. Nominated to the Collinwood HS Alumni Hall of Fame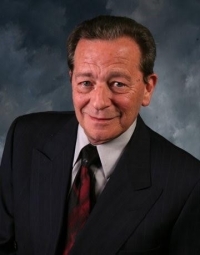 James E. DeGeronimo, Sr. (Business)
James E. DeGeronimo, Sr. has spent the last 50 or so years as an entrepreneur after graduating from Collinwood High School in June of 1962. In 1964 he married fellow CHS classmate Rozella Delre and together they raised three children until Rozella's untimely passing in 2007.
James' first work experiences after high school included short stints as an ambulance driver and a worker at the Fisher Body plant. Now on his own, he founded "International Accents", an import/export business capitalizing on the mid '70's desire for large wall paintings and accent furnishings. He then joined in the real estate upsurge in Florida land sales and gained knowledge of the vital mortgage sales industry.
In the late '70's, James founded a new company he named "American Graffiti" and adopted a type of home business sales force to sell the popular personalized shirts and clothing of the era. He then formed a partnership to form "Our Gang Entertainment." Our Gang produced the popular "Dancercise" records with many artists that predated the exercise videos of the '80's. Seeing the inevitable, James moved on to become the VP of video store sales for the company that eventually became Block Buster. With his brother Kenny, James started "VideoGenics", a company that concentrated on selling and supporting video tape production as well as video store franchising to rent the VHS videos and transfer existing 16mm and 8mm film to VHS format. This afforded James valuable exposure to the franchise sales industry contacts.
In 1986 James set up a business to study the current high rates of mortgage interest. Available court house records afford the data needed to offer the high rate borrowers a more affordable solution. In 1986, with the help of his daughter Laura, James started Mortgage Placement Services, Inc. out his northeastern Ohio home. His son, James Jr., joined him in the business and eventually his second son, Joe, also joined him. Based in Mentor, Ohio, the very successful company became one of the largest Mortgage Brokerage services in Ohio.
James Sr. is a two-time president and Co-founder of the Ohio Association of Mortgage Brokers. He spent 4 terms as the Vice president of Legislation/Government Affairs, and for six years he was the Ohio Representative to the National Association of Mortgage Brokers. These organizations played an important role in obtaining state regulations which better serve the loan industry and its customers. James Sr. wrote the state's first Mortgage Broker Reform Bill. James Sr. retired form MPS in 2006 leaving his son James, Jr. to direct the company. In addition, he served three terms as a trustee on the board of the Cleveland Better Business Bureau.
Following 20 successful years with MPS, James Sr. started a related business named Majestic Security, LLC. This business provides regulatory compliance products to serve the financial industry as well as identity protection products to all industries.
James DeGeronimo Sr. has demonstrated the true Collinwood HS spirit by superior achievement for our community and our society. We are proud to call you a fellow Railroader.
Charles Gill, '62, CHSAA-HOF Chairman
Charles Gill
Charles M Gill, Jr. Collinwood High School Class of 1962. Member of the Collinwood High School Alumni Association and Chairman of the Hall of Fame Committee.
Read More on Community
Volume 10, Issue 10, Posted 8:10 AM, 10.14.2018