Volunteers Needed to Provide Comfort and Care to Hospice Patients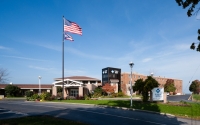 Would you like to volunteer close to home where you can make a meaningful difference to families in the community? Hospice of the Western Reserve, a nonprofit organization that helps families through one of life's most difficult times, is seeking caring people who want to give back to others by becoming a hands-on care volunteer. New volunteers are needed to join the hospice team to provide compassionate support and comfort to patients and families at David Simpson Hospice House, the inpatient care unit on E. 185th Street in Collinwood.
"Our hands-on care volunteers make a profound difference in the lives of hospice patients and their families by providing comfort, companionship and dignity at a time when they are most needed," explained Patricia Bennett, Volunteer Service Manager. "They'll work side by side with our Hospice Nursing Assistants to assist with activities like bathing, transferring and repositioning, personal care, oral hygiene and feeding. They may also spend time with patients to provide much-needed respite breaks for their family caregivers."
Bennett said all volunteers-in-training first attend introductory classes where they'll learn more about Hospice of the Western Reserve, its services, its mission in the community and the important role they will be playing as part of the volunteer team. Applicants have a choice of two convenient scheduling options: attendance at either a series of weekday sessions or two full-day Saturday sessions. Advance registration is required. Following the classes, a four-hour self-study module is completed at home.
"We support and mentor our volunteers every step of the way," said Patricia Bennett, Volunteer Service Manager, David Simpson Hospice House. "We value the important contributions they will be making, so we have built in lots of opportunities for shadowing and observing experienced hands-on care volunteers and clinical team members before they begin actively assisting with care."
"Our volunteers describe their work as both rewarding and intellectually stimulating," Bennett said. "They are truly the heart and soul of hospice and play a vital role in helping us carrying out our mission. In everything they do, they bring out this incredible passion and love for our patients and families."
Locally, the next series of introductory training sessions will be held at David Simpson Hospice House on the Lakeshore Campus, 300 E. 185th St., on Sept. 18, 20, 25 and 27 from 5:30-7:30 p.m. For more information or to register, call the Volunteer Services Team at 216.255.9090. A full schedule of upcoming volunteer training classes can be found on the website: hospicewr.org/volunteer.
Laurie Henrichsen, Media/Public Relations Manager, Hospice of the Western Reserve
Read More on Community
Volume 10, Issue 8, Posted 9:13 AM, 08.04.2018