'Girls Just Want To Have Fun' art exhibit on view March 2017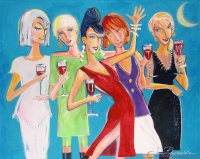 When the working day is done Girls, they want to have fun
Cyndi Lauper's hit 'Girls Just Want To Have Fun' first recorded in 1979 shaped my formative years. Hot pink fishnet, fluffy tulle, glitter everywhere – what's not to love?
Fast forward a few decades: to this collection of female artists, "fun" takes on a multitude of meanings but at its core holds dear friendship and the celebration of the female spirit.
Revel in the joy and power of Women's History Month in March by attending over 60 all-female exhibitions in galleries across Northeast Ohio. Founded by Mary Urbas in conjunction with the "from WOMAN" show at Lakeland Community College, look for the directory of participating galleries in CAN Journal.
"Rust, Dust and Other Four Letter Words" owned by maker Larry Fielder is proud to host one such female-centric show, 'Girls Just Want To Have Fun', curated by (me!) Collinwood artist and 2016 Creative Workforce Fellow Allison Lukacsy-Love.
Participating artists include Joanne Abruzzino, Allison Lukacsy-Love, Erin Mazza, Julia Rainey, Jane Reynolds, Grace Wen and Linda Zolten Wood.
When your working day is done, join us for opening night during the monthly Walk All Over Waterloo at 16008 Waterloo Road (across from Six Shooter Coffee, enter the gallery through the Waterloo Sculpture Garden) on Friday, March 3rd from 6-10pm to celebrate art by women, of women… for everyone.
Bright, candy-colored and effervescent paintings, prints and more will delight your eyes while your tastebuds enjoy complementary sweets. And you can almost certainly guess the exhibit's soundtrack.
After Friday, March 3rd the show is on view through March 31st, 2017 by appointment.
For more information on this show and other galleries participating in Collinwood, check out the Walk All Over Waterloo Facebook event page.
Allison Lukacsy-Love
Allison is a North Shore Collinwood resident, architect, artist, neighborhood cheerleader and frequent contributor to the Collinwood Observer. She curates "Phone Gallery", founded "Bus Stop Moves", upcycles street and beach trash into art and serves on the Board of Directors of Northeast Shores.
Read More on Art News
Volume 9, Issue 2, Posted 6:05 PM, 02.08.2017