LaSalle Arts and Media Center Project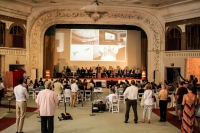 The long awaited LaSalle Arts and Media Center project had a groundbreaking on August 9, 2016. Several dignitaries and project supporters were on hand to officially launch the commencement of the project.
The venue will be the largest venue on the east side of non-hotel associated rentable event space. Given the unique floorplan levels, capacity for table seating will be from 250 to 600 people. "The adaptable re-use of the LaSalle Arts and Media Center sets the stage for a number of creative events to be hosted. We also hope to be able to show some films once or twice a month," stated Executive Director Brian Friedman, Executive Director of Northeast Shores Development Corporation the projects manager. Data will have the potential to travel into and out of the premises via fiber optic cable supplied by Lightower Communications. Five apartments will be rehabilitated utilizing The City of Cleveland Housing Trust Fund HOME Program, supplying 5 affordable housing units to the project. Three commercial storefronts will house: a bakery, insurance office and artists gallery space.
The project will continue as planned with what the public discussed at the project charrette in 2010. The wide open theater auditorium will remain in its 7,000 + square foot of unobstructed view state and will host events with A Taste of Excellence being the exclusive cater for the venue. The calendar will be filled with a number of ancillary uses, neighborhood meetings, parties, as well as performance space.
The 4.1 Million dollar project will commence construction very soon and be completed by April / May 2017. The Complex financing structure includes Loans and grants from several entities including: IFF, Cortland Banks, Village Capital Corporation, City of Cleveland, Departments of Economic Development and department of Community Development, Cuyahoga County Brownfield Program, State and Federal Tax Credits, Hurricane Sandy grant from the Ohio History Connection, A division of the State Historic Preservation Office, as well as Councilman Michael D. Polensek's Neighborhood Development Assistance program. The project Architect is LDA Architects located in Cleveland, Ohio.
The project is possible thanks to the generous support of The Char and Chuck Fowler Family Foundation, Cleveland Foundation, Enterprise, Euclid Chemical, Euclid Hospital, Finance Fund, First Energy, PNC Bank, Village Capital Corporation, and Chili Peppers.
Want to be a part of bringing back this historic and beloved East 185th Street landmark!? How can you help? As a dual-purpose fundraiser/renovation project, Northeast Shores is selling brick pavers for $150/each and light bulbs for $20/each.
Want to make a larger donation? Exciting naming opportunities are still available. Please inquire for a private tour. For more information, Carly Marginian at 216-481-7660.
Northeast Shores is a community supported 501(c) 3 organization and all gifts made in support of this campaign are tax deductible to the extent allowed by law.
Read More on Community
Volume 8, Issue 10, Posted 7:55 PM, 10.03.2016