Cleaning for Summer Fun!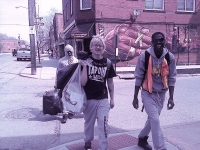 During the beginning of May, residents across Collinwood headed to the streets and the beach to beautify the neighborhood. We removed over 100 bags of trash and yard debris. If you haven't picked up enough trash, you are invited to join the Euclid Beach Adopt-a-Beach team each month. Now we're ready to celebrate!
Summer is near, and we are going to rock n roll! Euclid Beach Live runs from June 12 through August 21. This year, they're stepping it up with the addition of food trucks. It is hard to believe the time has come to think about the Euclid Beach Blast. Vendors and volunteers are needed. If you are interested in cleaning the beach or getting involved with the Beach Blast, check out https://www.facebook.com/AdoptEuclidBeach or www.euclidbeachblast.com.
Read More on Northeast Shores
Volume 7, Issue 6, Posted 12:53 PM, 05.31.2015