The Coit Rd Farmers' Market is Growing in the Neighborhood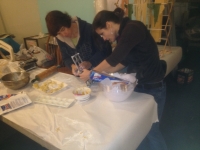 With most farmers' markets closed for the winter, the Coit Road Farmers' Market continues year-round on Saturdays 8am to 1pm. You'll find fresh greens from local greenhouses including Coit's urban farmers. Ever present Francis of Carousel Farm brings other vegetables such as beets, cabbage, potatoes, turnips, winter squash, cheeses and free range eggs.
Kai Wingo, of Kai's Cultured Mushrooms, offers oyster, shiitake and portabella mushrooms. "I'm a mushroom ambassador," Kai says. "I want people to know about benefits we get from mushrooms." Melvin, of Sad Bastards Breads, bicycles from Collinwood with vegan bread, desserts and chevre cheese. Pleasant Valley Farm from Willoughby has many varieties of apples at very reasonable prices. Ever pleasant Carlos of Inner City Bakery offers locally-roasted Crooked River Coffee by the bag or cup. Plumcreek Farm of Valley City will bring a variety of local, responsibly-raised pork, lamb, duck and geese on Saturday, December 7.
To sharpen your skills, Kevin "Spicehound" Scheuring conducts bi-weekly sessions on food preparation. November included sausage, pasta and pie crust making. You'll find upcoming sessions on Facebook and the "coitmarket" Yahoo group. As a bonus, Ohio Direction Card Users get $20 worth of food for $10 charged to their card each day they shop at the market. The market is located at 15000 Woodworth Rd near East 152nd and Noble Rd. Call 216-249-5455 or go to www.coitmarket.org for additional information.
Read More on Green Collinwood
Volume 5, Issue 11, Posted 5:39 PM, 12.12.2013